John B. Moore Documentary Studies Collaborative
Documentary Studies Summer Classes
Summer Session I (May 30 - June 30)
Eileen McAdam with Jay Kernis (CBS, NBC)
DS-251C • Intro to Audio Documentary • 3 cr
DS-202 Podcasting Workshop • 1 cr (Students must enroll in both classes)
Instructor: Eileen McAdam

DS 251C •An introduction to the technologies, tools, and skills of creating audio documentaries. Working individually in small production teams, students will produce original sound works for radio broadcast and podcast and listen to and critically analyze examples in the medium. Students will also learn to research and report a story according to ethical guidelines and legal norms of permissions as they apply different methods of sculpting an audio experience, telling stories, and representing reality. The course assumes no prior knowledge of audio technologies. with
DS-202 • In the podcasting workshop, students will engage in exploration of podcasting storytelling and metrics, production and influence on the future of radio, participate in a field trip to explore and practice using different microphones, and work with archival sound to create relevant stories.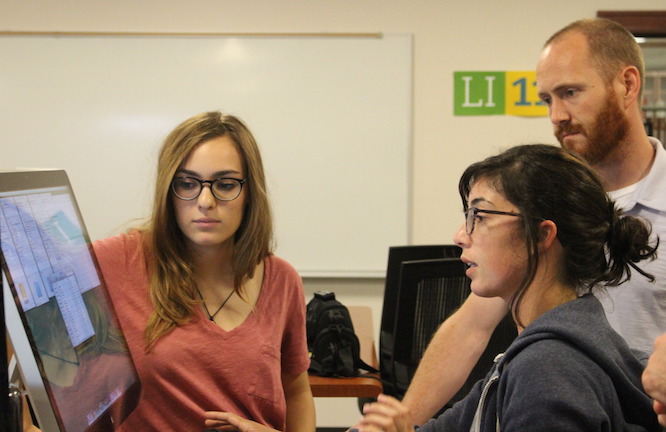 Emily Rizzo, '18 with Jonna McKone & Chris Moore
DS-251C • Introduction to Documentary Filmmaking • 3 cr
Instructor: Jonna McKone
Documentary Production focuses on the critical and technical skills that support the production of non-fiction video. The course will focus on work in the small towns and cities of the Hudson River Valley, which are layered with history. Exploring the region around Skidmore as a field site, students will gather impressions in various media to create short films that engage with the archaeological, visual, and experiential qualities of place. The course will include screenings and critiques of documentary, experimental and essay films that examine geographies through unconventional modes. As part of the production component of the class, students will learn editing, filming and sound recording. Class time will be used for technical workshops, critiques, screenings and discussions. Throughout the session, students will propose, shoot, edit and present a short documentary video.
DS-251C • The Documentary Film Business • 3 cr
Instructor: Yvonne Welbon
In this introductory course, students learn about the documentary film business from development through distribution. Through case studies, readings, screenings, discussion, special guests and hands-on work on non-fiction projects currently in productions, students learn the basics of producing an independent documentary film.
Summer Session II (July 3 - August 7)
DS-251D • Storytelling for the Screen • 4 cr
Instructor: Nicole Coady
Students will learn the classic three-act structure for telling their visual story. They will learn how to craft a compelling log line, as well as create a skeleton treatment from which to build their story and then go on to complete a first draft of a feature length screenplay which can be shared with other participants in the often collaborative work of telling stories through the various visual mediums available to 21st century storytellers.
For more information on summer on campus and how to register for summer courses, click here.
Note: All courses listed as DS count towards Skidmore College's Media and Film Studies Minor.
Related Summer Courses

Session I
Macartney Master Class, Summer 2015
SO-229R • Visual Sociology • 4 • Rik Scarce
MF-251C • Drawing Identity in Comics • 3 • Gregory Spinner
MF-251D • Human Culture Communication • 4 • Aaron Pedinotti
Session II
MF-220 • Intro to Media Studies • 4 • Aaron Pedinotti