John B. Moore Documentary Studies Collaborative
Spring 2017 Classes
Production Fundamentals

Documentary Studies
and related campus offerings in:
Anthropology: AN 351D 001 - Museum Dilemmas
Art: AR 229 - Beginning Photography
Art: AR 330 - Advanced Photography
Art: AR 351J - Advanced Digital Media
Art History: AH 322 - Inside the Museum
Arts Administration: AA 251C - The Art of Producing
English: EN 228 002 - Documentary Film
English: EN 105 003 - Experience in Documentary Writing
History: HI 351 D 001 - Public History
Media/Film Studies: MF 351D 003: Experimental Cinema/Intro to Electronic Media
Philosophy: PH 230C 001 - Film Truth
Sociology: SO 251 002: Social Science Journalism
Sociology: SO 351R - Video Ethnography
NOTE: All courses listed as DS count towards Skidmore College's Media and Film Studies Minor.
Production Fundamentals
DS 110B - Storytelling: Video
Vickie Riley
T, 4-6:00, 2 credits

Students will learn the basics of video storytelling through this one-credit video production course. Over the course of the semester, you will move from concept to completion of a single video project (3-4 minutes), which you will shoot, edit and present. Skills developed may include storyboarding, DSLR camera workflow, setting up video interviews and how to tell a visual story. Students will present a project on the first day of class. Project stories and approaches are open based on student interest; they may range from documentary and narrative to experimental and creative. They may be drawn from a previous or current course or your expertise and interests. This is a skills-based visual course that has been designed for students at any level of experience.
DS 112A - Storytelling: Photography
Eric Jenks
Th, 4-5:50, 1 credit, (half-semester) 1/26-3/9
Students will explore techniques and methods of photographic storytelling working with DSLR cameras. Lectures, demonstrations and exercises will build ability in composition, exposure, and seeing. Class will also address organizing, adding metadata, and adjusting images. No previous experience necessary.
DS 113A - Storytelling: Interviewing
Susan Bender
W, 4-5:20, 1 credit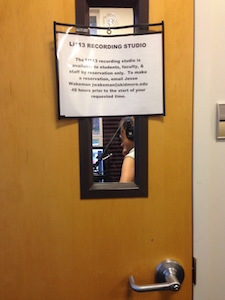 Students will learn the basics of oral history interview practices, ethics and techniques, including how to digitally record and transcribe an interview. We will begin by working on Skidmore stories with Skidmore retirees, alumni and/or Saratoga Springs residents. Each student will record, log and transcribe two interviews, one from a pre-selected pool of interviewees and another of their own choosing. Completed oral histories may become part of the Skidmore-Saratoga Memory Project.
DS 116A 001 - Storytelling: Map Design and Spatial Visualization -- NEW!!
Thomas Hart
MW, 12:20-1:10, 1 credit, (half-semester) 1/23-3/8
Presentation of geographic spatial information begins with maps made following good design. What makes a good map design in terms of color composition, scale, and density of information? How does one present multiple scales and time series? Good design is only the beginning. Once content is mapped, how and with what media can the visual information be best presented? This course will explore map design and appropriate use of increasingly complex presentation strategies starting with powerpoint, followed by Google map engines and embedded internet applications and culminating with ArcGIS Online driven story mapping. Students with prior GIS experience will be able to create their own map data, while those uninitiated in GIS will be able to use existing data sets to achieve powerful and appropriate visualizations. The seven week course design allows for those with significant presentations at the end of the semester, such as capstone projects, to apply visualization and presentation methods gained in this course in those projects. The course would be offered under Documentary Studies with Environmental Studies and Science cross-listing to appeal to a broad range of students.
DS 116A 002 - Interactive Media Design with Unity -- NEW!!
Paul Hembree
Thu, 6-7:20pm, 1 credit
This skill-based course focuses on learning to create traditional desktop, web, mobile or virtual reality applications using the Unity game engine, with C# as a scripting language. Unity is a powerful interactive storytelling tool that can be used to bring student research or creativity to life in a variety of ways. Course content will involve a series of short projects based on different build targets. No prior coding experience is necessary.
DS 302A 001 Video Projects
Ron Taylor
M, 4:00-6:00, 1 credit, (1/23-3/6)
This course is for students interested in developing a documentary project based on existing or in-progress research in any discipline. Proposed projects may employ video, photography, and/or other media. Students will workshop an individual short project from proposal through in-class presentations with individual and group critiques. Students will focus on finding an approach to form that suits both subject matter and their personal academic and creative goals. Students will also be exposed to screenings of works by others using various styles.
Documentary Studies
DS 202A - Public Science Communication: Web Design -- NEW!!
Erika Schielke
T, 2:10-3:30, 1 credit
Develop public science communication skills as you work with a local nonprofit to design content for their website. We will explore how to make information about tree identification and forest ecology appealing and accessible to the general public, and develop basic skills in web design. Readings and examples will be drawn from the scientific and popular literature, with emphasis on how to present science compellingly and accurately. Sciences, the arts, and humanities all have a role to play in this project.
DS 251A 001 - Storytellers' Institute Prep
Adam Tinkle, Jordana Dym
MW, 1:50-3:10, 1 credit
For students accepted to summer 2017 Storytellers' Institute. Preparation of projects and skill-building to prepare for a successful June fellowship. By permission of the instructors only.
DS 251A 002 - Community and Radio - NEW!!
Adam Tinkle
F, 12:20-2:10, 1 credit (half-semester) 3/10-5/2
How do local media constitute, represent, serve or create different kinds of "community"? What are Skidmore and its media resources (including WSPN) doing-- and what could they do-- to articulate the connections between media and community?
This course represents the beginnings of an effort to bring contemporary community radio and related sonic arts (especially low power FM and podcasting) into the Skidmore curriculum, leading to the creation of a service-learning course and MDOCS-linked community engagement project that will become a reality in Summer and/or Fall 2017. Students will help envision this project and plan a related syllabus. Topics to be covered will include media activism, media justice, and the community arts "ecosystem."
DS-251B - Artist Profiles: Script to Film -- NEW!!
Marc Woodworth
W, 12:20-2:10, 2 credits
Creative Lives: Scripting and Making Video Profiles of Artists and Writers
Choose an artist in any field—from a writer or visual artist to a musician, actor or dancer—then research, develop, script and produce a video profile that documents a creative life from your own perspective. You'll be encouraged to meet and work directly with the subject of your film. Then, in once a week workshops, we'll focus on interviewing, shooting video, developing a narrative, script-writing and -revision, producing and editing your project. We'll discuss the complexities of representing others, their lives and work, and the need to find a particular and perhaps a personal approach when making a profile. How can we tell a compelling and truthful story of a creative life using the elements we discover and generate? We'll operate as a workshop, discussing together not only accomplished videos and films from the straight-forward to the decidedly experimental, but also our own work in an engaged, responsive and supportive context so that we can fully realize our projects by the end of the semester.
DS 251C - Introduction to Audio Documentary
Adam Tinkle
Tu/Th, 12:40-2, 3 credits

An introduction to the technologies, tools, and skills of creating audio documentaries. Working individually and in small production teams, students will produce original sound works for radio broadcast and podcast and listen to and critically analyze examples in the medium. Students will also learn to research and report a story according to ethical guidelines and legal norms of permissions as they apply different methods of sculpting an audio experience, telling stories, and representing reality. The course assumes no prior knowledge of audio technologies. Students will also learn to research and report a story, observe ethical guidelines and legal norms of permissions, and apply different methods of sculpting an audio experience, telling stories, and representing reality.
DS 302C - Archival Storytelling -- NEW!!
Jordana Dym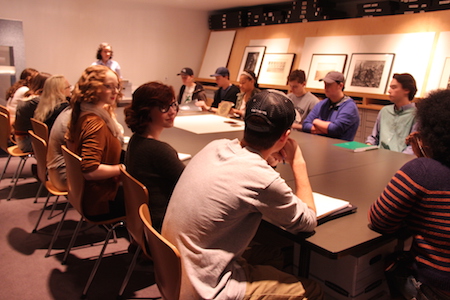 MW, 2:30-3:50, 3 credits
Exhibit creators, media producers, and other storytellers connect past to present by drawing not only materials but ideas and narratives from museum, library, personal and private collections. In this class, students will develop evidence-based stories from sound, visual and text-based archival materials. The class introduces the history and basics of collections management (accession, inventorying, organizing and cataloguing documents, media and material artifacts) and display, from identification of story ideas to the curation and public presentation of archival materials. The class will prepare documentary project proposals and a collective exhibition based on work with a collection drawn from a local organization, the Tang Teaching Museum, or Scribner Library's special collections.
DS 351B - Festival Programming II -- NEW!!
Tom Yoshikami
M 4-6, 2 credits
This course will culminate in the conceptualization of Skidmore's first student-run documentary arts festival to take place in summer, 2017 to coincide with MDOCS¹ Storytellers' Institute. Students will be introduced to the history of media exhibition, with particular emphasis on the programming of festivals, art-house cinemas, and college film programs over the past seventy-odd years. Through course readings, case studies, discussions with professional programmers, visits to area film festivals and museums, and hands-on programming practice with fall DS events, students will engage with practical and theoretical questions of how to program a festival. While an important focus will be on film, the concepts and methods discussed translate across media. Interested students may continue this course in the Spring for the planning and running of MDOCS' inaugural student run documentary festival. No prerequisite.
MFS 251C - Law and Ethics for Media: An Interdisciplinary Study of Legal and Ethical Issues in Media Production
Scott Mulligan
T/Th, 2:10-3:30, 3 credits
How do filmmakers and documentarians, authors and artists, musicians and storytellers protect their ideas, expressive works and creative endeavors from being copied or stolen by others, especially in the digital age? What legal and ethical issues do these individuals confront as they produce their creative projects, especially ones which incorporate other media content? This course offers an interdisciplinary exploration of the various legal, ethical and practical issues involved in varying media production forms (video/film, photography, music/audio, documentary, web and exhibit-based narratives etc.) for fiction and non-fiction storytelling. Students in the course will consider and analyze issues related to and best practices for intellectual property (copyright, trademark, right-of-publicity, droit moral), privacy, defamation, contracts, permissions and clearances for content, as well as ethical concerns regarding truth-telling, accuracy, fairness, deception/manipulation, plagiarism, conflicts of interest, source-shielding/privilege, independence and credibility/accountability. Students will learn to develop approaches regarding underlying policies and to challenge assumptions at the intersection of storytelling, business, art, law and creative expression. Some documentary films will be shown on a few evenings during the semester.