John B. Moore Documentary Studies Collaborative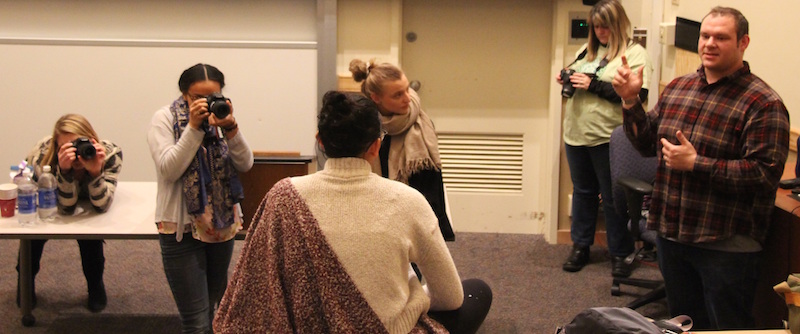 Fall 2017 Classes
| | |
| --- | --- |
| Production Fundamentals | Documentary Studies |
NOTE: All courses listed as DS count towards Skidmore College's Media and Film Studies Minor.
Production Fundamentals
DS 110B - Storytelling: Video
Vickie Riley
T, 4:30-6:30, 2 credits

Students will learn the basics of video storytelling through this one-credit video production course. Over the course of the semester, you will move from concept to completion of a single video project (3-4 minutes), which you will shoot, edit and present. Skills developed may include storyboarding, DSLR camera workflow, setting up video interviews and how to tell a visual story. Students will present a project on the first day of class. Project stories and approaches are open based on student interest; they may range from documentary and narrative to experimental and creative. They may be drawn from a previous or current course or your expertise and interests. This is a skills-based visual course that has been designed for students at any level of experience.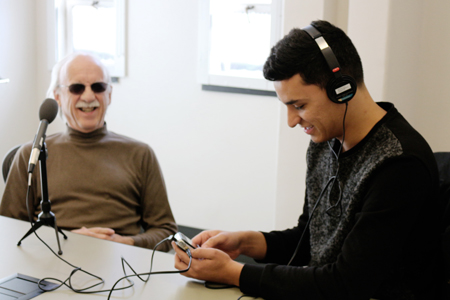 DS 113A - Storytelling: Interviewing
Krystle Nowhitney
W, 6 - 7:20, 1 credit
Students will learn the basics of oral history interview practices, ethics and techniques, including how to digitally record and transcribe an interview. We will begin by working on stories with Saratoga Springs residents. Each student will record, log and transcribe two interviews, one from a pre-selected pool of interviewees and another of their own choosing. Completed oral histories may become part of the Skidmore-Saratoga Memory Project
DS 116A 001 - Storytelling: Map Design and Spatial Visualization
Thomas Hart
M 11:15-12:35, 1 credit
Presentation of geographic spatial information begins with maps made following good design. What makes a good map design in terms of color composition, scale, and density of information? How does one present multiple scales and time series? Good design is only the beginning. Once content is mapped, how and with what media can the visual information be best presented? This course will explore map design and appropriate use of increasingly complex presentation strategies starting with powerpoint, followed by Google map engines and embedded internet applications and culminating with ArcGIS Online driven story mapping. Students with prior GIS experience will be able to create their own map data, while those uninitiated in GIS will be able to use existing data sets to achieve powerful and appropriate visualizations. The seven week course design allows for those with significant presentations at the end of the semester, such as capstone projects, to apply visualization and presentation methods gained in this course in those projects. The course would be offered under Documentary Studies with Environmental Studies and Science cross-listing to appeal to a broad range of students.
DS 116B Persuasive Interactive Media Design -- NEW!!
Paul Hembree
Thu, 6-7:20pm, 1 credit
In this course students will learn interactive media design in the Unity game engine, basic programming skills, and the theory of making persuasive arguments with interactive media and games. One major project will include learning to create an educational interactive experience for desktop. Course content will also begin to prepare students for the Unity developer certification exam.
Documentary Studies
DS 210 - Introduction to Audio Documentary
Adam Tinkle
W/F, 12:20-140, 3 credits

An introduction to the technologies, tools, and skills of creating audio documentaries. Working individually and in small production teams, students will produce original sound works for radio broadcast and podcast and listen to and critically analyze examples in the medium. Students will also learn to research and report a story according to ethical guidelines and legal norms of permissions as they apply different methods of sculpting an audio experience, telling stories, and representing reality. The course assumes no prior knowledge of audio technologies. Students will also learn to research and report a story, observe ethical guidelines and legal norms of permissions, and apply different methods of sculpting an audio experience, telling stories, and representing reality.
DS 251C - Documentary Storytelling -- NEW!!
Cecilia Aldarondo
MW, 2:30-3:50, 3 credits
In many ways, documentary stories aren't so much written as discovered. Our world is already full of stories waiting to be told, but what makes a story worth telling and how one should tell it, are two of the most crucial questions any documentarian must answer. From initial concept through to the final edit, this course asks students to grapple with this process of documentary discovery to develop a robust set of practices from which to tell the stories of the world around us. Major topics include:
· How to develop, nurture and test a story idea: when to know it has 'legs'
· The value of Loglines, Treatments and Pitches for conceptualizing story
· Form and Methodology: is this story best told as a short? Podcast? Feature? Interactive project? Does it require archival research? Interviews?
· How to ethically obtain access to a story
· Finding the story in the footage—the importance of the editing room

This course requires no pre-existing knowledge or experience of documentary practice or technical expertise, and will be of interest to anyone curious about telling documentary stories in a multitude of forms. Students will work with an archive of previously shot footage to craft a short documentary film, learning basic editing techniques with Adobe Premiere.
DS 251C - Documentary and Narrative Screenwriting -- NEW!!
Nicole Coady
TR, 9 - 11, 3 credits
The craft of storytelling for the screen will be honed through examining landmark films, documentaries, television shows and an assortment of new media. We will put what we learn into practice through writing our own visual stories and class discussion. Over the course of the semester, students will learn the classic three act structure for telling a visual story. They will develop skills in how to craft a compelling log line, as well as learn to create a skeleton treatment from which to build a story. They will develop a documentary project and a final treatment, narrative or documentary, which can be shared with other participants in the often collaborative work of telling stories through the various visual mediums available to 21st century storytellers.
DS 381A - Skidmore-Saratoga Memory Project: The WSPN Story
Jordana Dym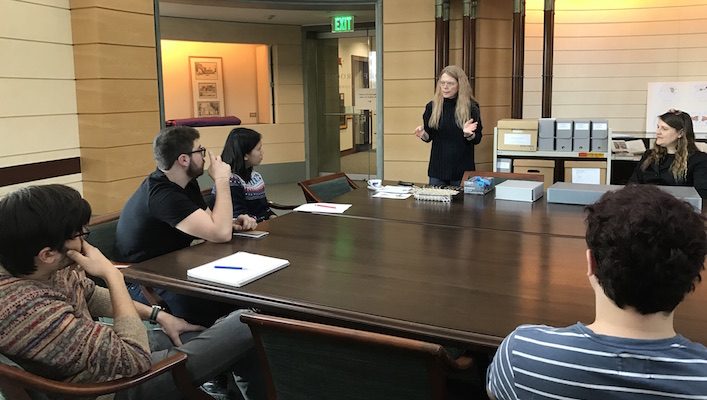 W 4:30-6, 1 credit
Students in this practicum will work with WSPN archival materials — including oral histories, artifacts, media, and papers — to develop a multimedia exhibition to tell the history of our station as an integral institution on campus since the 1970's. One of the longest running independent student-run college radio stations in the country, WSPN offers Skidmore College and Saratoga area communities the opportunity to bring music, share stories, and shape the region's listening experience. The exhibition is planned for the end of Fall 2017. WSPN's board and larger community have developed this opportunity to expose and tell the story of radio to both the Skidmore community and the Saratoga community at large The project is a collaboration of WSPN, MDOCS' Community and Radio, and Scribner Library.