John B. Moore Documentary Studies Collaborative
Courses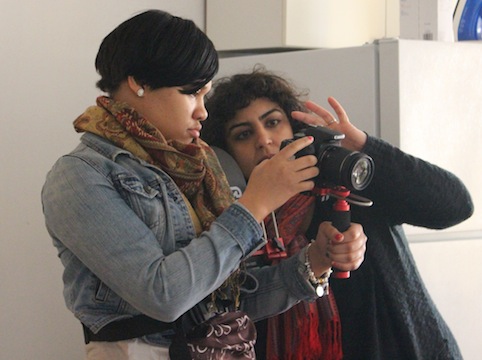 MDOCS offers students several paths to develop their interests in documentary theory and practice. A gateway course provides an overview of the principles of documentary traditions. In addition, courses in the distinct documentary traditions led by expert faculty or documentarians introduce and develop the skills of documentary production. We also partner with departments (including Art History, English, Philosophy and Sociology), cross-listing relevant courses.
For students developing independent or class projects and faculty from across the curriculum, MDOCS sponsors add-on short courses, practica, and workshops. In addition, technical support and documentary production resources will be available in the
Doc | Vis Center in Scribner Library, Room 113
, and other teaching and professional spaces on campus.
Community partners are invited to
contact the director
if they are interested in participating in a Documentary Studies class.
Principles of Documentary (DS 201)
Eileen McAdam (Sound & Story of the Hudson Valley)
hosts Jay Kernis (CBS) in Principles of Documentary,
spring 2015.
DS 201: This 200-level, 3-credit course is the gateway to the Documentary Studies Collaborative. This course introduces local, national, and global documentary traditions in film, sound, photography, and exhibition through readings, screenings, classroom discussion, and engagement with practitioners. Students will engage with theoretical and practical issues related to documentary work, including critical analysis of existing work and of the distinct ethical and aesthetic concerns associated with developing and telling stories that matter. The course emphasizes how the narrative, analytical, and structural frames of audio, visual, and written media shape the work, its audience, and impact. Rather than focusing on the production of a documentary in any one form, students get a hands-on experience of various media and an overview of technical aspects to help them prepare for extended work in one or more documentary media.


Storytelling Toolkit (DS 110–116)
Documentary Skills courses will prepare students for documentary fieldwork within a given documentary tradition or medium, as well as serve students interested in production for feature and creative work. Although it is recommended that students take Principles of Documentary to prepare for these courses, there is no prerequisite. Rather, it is expected that students complement or build from work done in either Principles of Documentary or other coursework.
Storytelling Toolkit courses are 1–2 credit workshop classes that teach the nuts and bolts of media production. These courses will serve students whether they are interested in working on evidence-based or purely creative projects. Such classes include:
DS 110 A or B Storytelling Toolkit: Video
DS 111 A or B Storytelling Toolkit: Audio
DS 112 A or B Storytelling Toolkit: Photography
DS 113 A or B Storytelling Toolkit: Interviewing
DS 114 A or B Storytelling Toolkit: Exhibition
DS 115 A or B Storytelling Toolkit: Web Design
DS 116 A or B Storytelling Toolkit: Topics

Topics in Documentary Studies
AHDS 324 The Artist Interview (3 credits)
An exploration of the artist interview as a form of original art historical research. Students will learn how oral histories can function in a museum collection archive. Working in teams, students will closely examine and research artworks in the Tang Museum collection, prepare questions for the artists, and create videotaped interviews. Students will learn different methodological approaches to the interview and consider such questions as: how does editing play a role in making meaning; who defines the meaning of an artwork; and is the artist always the best source about his or her own work? Prerequisites/corequisites: one art history course. I. Berry


DS 371 Independent Study in Documentary Studies (1–4 credits)
An opportunity for qualified students to pursue independent study or research in Documentary Studies under the supervision of an appropriate faculty member. The written study proposal must be approved by the MDOCS Director. Prerequisites/corequisites: previous study related to the area of the internship experience. The Faculty

DS 251/351 Topics in Documentary Studies
MDOCS has topics courses at the 200- and 300 levels (DS 251 and 351). These 3–4 credit courses are meant to develop documentary skills; students may work on projects developed by the course instructor and storyboard rather than workshop independent projects. Courses may be taught by the director, MDOCS staff, Skidmore faculty, professional documentarians, and Mellon Fellows.
In addition, MDOCS identifies courses with documentary assignments within departments and offers or supports standalone 1- or 2-credit workshops to complement the Skills in Documentary courses. Students in such experiences may advance an existing project developed in DS or in another discipline (Video Projects) or focus on interviewing technique, design an exhibition, or curate a film series, for example.


DS 399 Professional Internship in Documentary Studies (1–4 credits)
Professional opportunity for advanced students whose curricular foundations and cocurricular experience have prepared them for more autonomous professional work related to documentary studies. With faculty sponsorship and the director's approval, students may extend their educational experience into such areas as filmmaking, sound recording, exhibition, archives, and other professional areas. Prerequisite: previous study related to the area of the internship experience. The Faculty