John B. Moore Documentary Studies Collaborative
Origins and Development
Hand and mind have been Skidmore College values since Lucy Scribner founded the Young Women's Industrial Club in 1903 with a curriculum blending the practical, the creative, and the aesthetic. By the 1940s, liberal arts and civic engagement were integral to Skidmore's story. In one particularly impressive case, 260 Skidmore College students, supervised by City Planning Board member and sociology professor Everett Stonequist, helped tell Saratoga Springs' story, conducting interviews with 2,000 families to help the city "look to the future."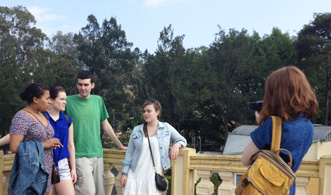 Documenting Guatemala, 2014
K. Williams '17
That future achieved, using the visual and social media tools increasingly available in the 21st century, Skidmore faculty and students have worked independently on campus and with community groups to tell stories that matter. They have dug up or documented the past and grappled with pressing political, economic, and social issues, reaching beyond the classroom to share their findings in exhibits, op-eds, films, blogs, and other documentary media. Students in public history researched local sacred spaces for the Saratoga Springs Preservation Foundation, while Latin American Studies students produced a film about voluntourism during an alternate spring break in Guatemala. Alum Jocelyn Arem (Music, SDM, '04) spearheaded the Caffe Lena History Project, Chris Weigl (English, '11) turned his passion for photography toward documenting Cambodia and Thailand, and Liz Roman Gallese (English, '69) produced the film Women of '69, a documentary film inspired by alumnae photos.
In the context of a national debate about the impact of liberal arts values and models in 21st century society, Moore family members Jim and Sue Towne stepped in to encourage the College community to strengthen these initiatives, to pool disparate resources and energies. and to make documentary skills and methods more broadly available across the curriculum and to community members.
With support from the Faculty Executive Committee and Committee on Educational Policy and Planning, a working group led by History Department associate professor Tillman Nechtman met in 2013–2014 to bring the Skidmore community together and to work out the broad outlines of what emerged as the John B. Moore Documentary Studies Collaborative. We begin work in the 2014–2015 academic year. Interim Director Jordana Dym and advisory board Daniel Curley (classics), Heather Hurst (anthropology), Crystal Moore (social work) and Jeff Segrave (health and exercise science) look forward to inaugurating MDOCS.