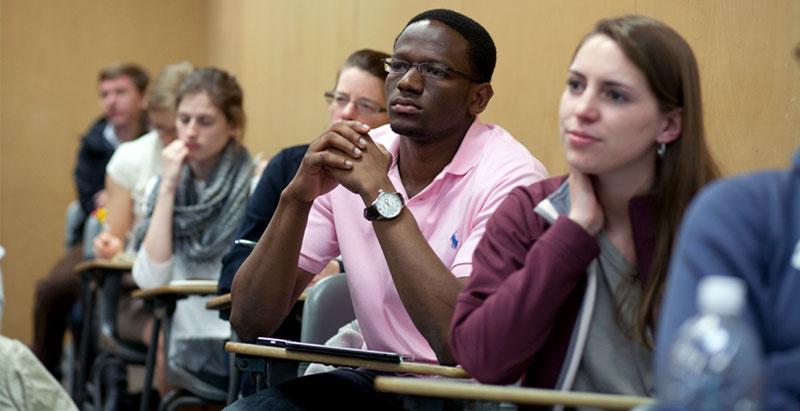 At Skidmore, we believe a great education is about putting academic theory and creative expression into practice.
This practical focus often leads to cross-disciplinary and interdisciplinary courses of study where students carry multiple majors, collaborative research is common, most students study abroad, and internships and service-learning courses are standard. Skidmore students develop into independent, creative problem-solvers who aren't restricted to looking at things in traditional ways.
How do we align academic theory with day-to-day reality?
From our beginning we've believed that the life of the mind is vitally linked to a life of creativity, practicality, and action. So we've developed an array of majors, minors, and special study programs that will enable you to create a cohesive learning experience that means something now and in the future. A Skidmore education will equip you for exciting career options, for the opportunities and responsibilities of our global society, and for a lifetime of learning and growth. 
It will help you harness what's best in you and connect it to the real world.
First-Year Experience (FYE)
We know that students who don't connect in a rich and meaningful way with faculty members and peers, and who fail to identify an intellectual interest or passion, are less likely to succeed. That's why Skidmore developed the First-Year Experience.
Majors and Minors
Students can choose from B.A. and B.S. degrees in nearly 50 disciplines—in the arts, humanities, sciences, and social sciences, as well as in preprofessional fields such as management and business, education studies, and health and exercise sciences. Some students even craft their own self-determined majors. And most carry two majors or add a minor. Most major disciplines also offer minor programs.
Academic Departments and Programs
Skidmore academics feature an array of liberal arts and preprofessional offerings with an interdisciplinary focus that opens students' minds and brings creative thought to life. The First-Year Experience sets the tone, after which students take advantage of hands-on research, internships, service learning, off-campus study, and other transformative experiences that equip them for an exciting career, the opportunities and responsibilities of our global society, and a lifetime of learning and growth.
List of academic departments and programs
Course Catalog
Skidmore offers a wide variety of courses that will enable you to create a cohesive learning experience. A Skidmore education will equip you for exciting career options, for the opportunities and responsibilities of our global society, and for a lifetime of learning and growth.
See the current course offerings.
Off-Campus Study
Nearly 65% of our graduates study off campus, placing Skidmore fourth in the nation among the top 40 baccalaureate institutions for the number of students studying abroad for one semester. Students can choose from approximately 140 approved programs in 50 countries, plus almost 200 campuses in the U.S. and its territories through the National Student Exchange.
Summer Programs

During the summer, students find a distinctive array of academic programs, intensive institutes, lecture series, artist-scholar residencies, and community programs that serve everyone from high school and college students to graduate students and professionals.
Student-Faculty Research
Skidmore's Summer Faculty Student Research Program provides students with a unique opportunity to work with faculty on original research in disciplines ranging from biology to management and business, including English, physics, dance, and economics.
Student-Faculty Research information
Service Learning
Service-learning coursework includes community service as an experiential learning technique to deepen students' understanding of course content, to build their skills in the application of theory to practice, to increase their experiences with diversity, and to develop their interest in and commitment to social action and social problem solving.
More on service learning at Skidmore.
Honors Forum
Honors Forum is an academic program that offers rigorous courses and extracurricular events to its members and the larger Skidmore community. In their first or second years, students apply based on their GPA and leadership potential.
Grad School Agreements

Skidmore offers its own master's program, MALS, in addition to numerous cooperative bachelor's and master's programs with other leading institutions in areas such as business, engineering, nursing, and physical and occupational therapy. Dedicated assistance is also available for students preparing for medical, dental, veterinary, and other health schools through the Health Professions Advisory Committee.
Antecedentes académicos de Skidmore
Desde los inicios de Skidmore, creemos que la existencia del pensamiento está vinculada fundamentalmente a una vida de creatividad, pragmatismo y acción. Por lo tanto hemos desarrollado un conjunto de diplomados, especializaciones secundarias y programas que le permitirán crear una experiencia de aprendizaje coherente que tiene significado en el presente y en el futuro. La educación en Skidmore lo preparará para una carrera emocionante, para las oportunidades y responsabilidades de nuestra sociedad global y para una vida de aprendizaje y crecimiento. Le ayudará a aprovechar lo mejor de usted y a conectarlo con el mundo real.
Diplomados, especializaciones secundarias y programas de título

En el Catálogo de Skidmore se encuentra una lista actualizada completa de todos los diplomados, especializaciones secundarias y programas.

Otras experiencias académicas para estudiantes universitarios (sin título)

Estudios de posgrado

Programas de verano
斯基德莫尔的学术水平
自斯基德莫尔创建之初,我们就相信只有智力的发展,才能激发富于创造力、实践力以及行动力的生活。因此,我们开设了大批主修专业、辅修专业以及一系列课程,让您在本校的学习经历,成为连接您现在和未来的桥梁。斯基德莫尔的教育让你有能力迎接激动人心的职业生涯,面对全球化社会的机遇与责任,并准备好终生的学习和成长。它将帮助你驾驭你的优势,并使你在现实世界中得展所长。
主修专业、辅修专业和学位项目
最新的主修专业、辅修专业、和学位项目完整清单请见斯基德莫尔目录。